Motorcycle Accident Attorney in Lawrenceville, Georgia
Our lawyers handled motorcycle accident claims all over the state of Georgia. This page discusses how these types of personal injury claims are handled and provides information on the average payout for a motorcycle accident.    
There are many technical reasons why handling a motorcycle case is more challenging than handling a typical car accident claim. But another reason is juries are prone to believe negative stereotypes about motorcyclists. Insurance companies discriminate against motorcyclists when placing a settlement value on cases as well. These stereotypes often make it more difficult to arrive at an agreement about liability and a settlement and can often lead to a lawsuit.
Contrary to these stereotypes, most of the motorcyclists are safe and conscientious riders. The majority of riders are concerned about their safety. They wear helmets and protective vests, have usually taken one or more safety courses, and their motor vehicle records are cleaner than the average driver. Many of the serious motorcycle accidents are caused by inattentive drivers who do not see motorcycles coming. The most common example of this is when a car or truck makes a left-hand turn without noticing the motorcycle in the opposite lane, resulting in a head-on collision.
Below we discuss motorcycle accidents, the value of these accident cases, and how insurance affects motorcyclists.
Motorcycle Accident Statistics
According to the Georgia Department of Driver Services (DDS), although motorcycles represent just 2% of registered vehicles, motorcyclists are consistently overrepresented in traffic fatalities. In Georgia motorcycle fatalities have steadily increased in recent years. In 2017 there were 139 fatalities, 154 in 2018, 170 in 2019, and 179 in 2020. From 2017 to 2019, motorcyclist fatalities increased by 22%.
In 2019, there were 3,948 motorcycle crashes statewide and a total of 4,269 motorcyclists involved in crashes. DDS found that for every 100,000 registered motorcycles there were 1,941.5 motorcycle crashes. The Atlanta region accounted for 42% of motorcycle crashes, with findings that indicate metro Atlanta has a higher rate of crashes compared to rural counties. The top counties with the highest number of motorcyclist fatalities and serious injuries were Fulton, DeKalb, Gwinnett, Cobb, and Bibb.
Motorcyclists, therefore, pay more for their injuries than drivers of other vehicles. The average total cost of a motorcyclist's injuries is about $211,000, compared to about $17,000 for all other vehicles.
"Severe injuries are ten times more likely in motorcycle crashes than in car crashes."
A significant number of fatal accidents for motorcyclists are single-vehicle crashes as opposed to a motorcycle crashing into a car.  These crashes are often attributed to a lack of training, speeding, and driving while under the influence. Helmet use also contributes to fatalities. 
The National Highway Traffic Safety Administration estimated that 800 lives could be saved every year if riders wore helmets. Georgia law stipulates that motorcycle riders must wear helmets that meet MVA standards and visors if their bike does not have a windshield.
The negligence of other drivers on the road is another significant contributing factor to motorcycle fatalities. Approximately 40% of fatal motorcycle crashes occur when another vehicle turns left in front of an unsuspecting motorcyclist.
What Types of Motorcycle Accidents are Frequently Litigated?
One common scenario is when a driver turns left off a two-way road without noticing an oncoming bike, causing the bike to collide with the side of their vehicle. This may also occur when drivers blow through stop signs or yellow lights.
"Around 40% of accidents involving motorcycles are caused by an inattentive left-turning vehicle."
Failure to yield is another common cause of motorcycle accidents that involve other vehicles, and many left-turn accidents involve failure to yield. A car may, for example, make a right turn onto a roadway and fail to notice a motorcycle already traveling in the lane they are entering. 
These kinds of accidents happen because drivers are not paying careful attention to the road and fail to notice motorcycles, which are smaller and harder to see. In other words, these crashes are the result of negligence. In left-turn and failure to yield cases, it is usually relatively simple to determine who was at fault for the accident and to prove that the at-fault driver was not paying attention to what they were doing.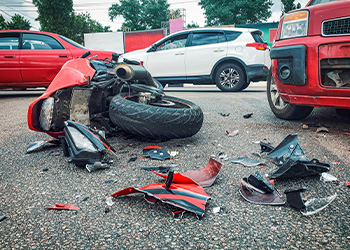 What Is Unique About Motorcycle Personal Injury Claims?
With every accident case, it is imperative to establish who was at fault for the accident. Fault is especially difficult in motorcycle personal injury claims because, given the small size of the vehicles and the stereotype about reckless motorcycle drivers, juries are not likely to favor riders. 
This makes what motorcycle accident lawyers do all the more important. Determining who is legally responsible for a traffic accident usually involves visiting the crash's location, analyzing the location on Google Earth, and getting witness statements to corroborate a plaintiff's testimony.
What Injuries Are Common in a Motorcycle Accident?
Although recent developments in motorcycle safety equipment have made riding motorcycles safer than ever before, riders can still sustain critical and fatal injuries – like spinal cord injuries – when traveling in inclement weather, at high speeds, dealing with other drivers, and encountering other hazards on the road.
Vehicle and motorcycle accidents can happen at any time of the day, in any kind of weather, but certain elements can contribute to a more dangerous driving or riding experience. Because motorcycles aren't as big as cars, trucks, or vans, for example, some drivers don't see them. Some drivers don't pay attention to the road and other vehicles (including motorcycles) as they should – this contributes to the overall more dangerous motorcycle ride.
In a motorcycle accident, you could have any one or many of the following bodily injuries, which may be temporary or permanent, and run the gamut from minor to severe:
Breaks or fractures

Cuts, burns, and road rash

Disfigurement

Traumatic Brain Injury (TBI)

Spinal cord injuries and paralysis
What Is the Average Payout for a Motorcycle Accident?
However, according to a study by Jury Verdict Research, the average motorcycle accident verdict nationally is approximately $560,000. The median verdict award is just over $70,000. The average is so much higher because it is driven up by a smaller number of high-value cases that involve very serious injuries or death.
"The average motorcycle verdict is $560,000."
A motorcycle accident case's value is determined by factors such as medical costs, financial losses, and non-economic damages like the victim's pain and suffering or loss of enjoyment of life. 
What Damages Can I Get in a Motorcycle Accident Case?
When making a claim for a motorcycle accident, you need to show how much you are owed by proving what damages you suffered because of the other party's negligence. To do that, your lawyer will calculate the economic damages (financial expenses) and non-economic damages (losses to quality of life or wellbeing) that occurred after your crash.
Possible damages to collect after your motorcycle accident include:
Medical expenses

Lost wages

Property damage

Pain and Suffering

Mental anguish

Wrongful death

Punitive damages